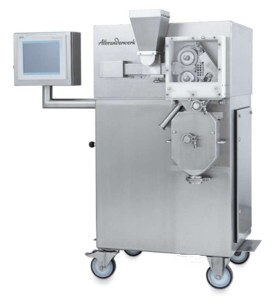 Alexanderwerk's WP120 laboratory roller compactor is an all-in-one dry granulation machine for producing free flowing granules to feed your capsule filler or tablet press.
Pre-blended powder is fed into the raw material hopper where a slow turning agitator encourages its flow into the horizontal screw feeder below.  As the powder is transported towards the nip zone of the vertically arranged compaction rollers, an inbuilt vacuum system pulls the powder against the wall of the screw feeder, which enhances powder transportation towards the rollers and allows trapped air to vent back along the screw auger and out of the raw material hopper.  At this point the powder is drawn in-between the compaction rollers and exits them in the form of a ribbon/flake of operator-defined thickness.  Any uncompacted fines falling from the sides of the rollers may be diverted to an outlet chute.  A low speed revolving knife blade breaks the flake into pieces ready for gentle crushing in the two-stage rotary fine granulators below.  Typically fitted with a coarse and a fine mesh, you select the optimum mesh aperture to fit your desired granule size range.
The whole process is controlled using a large touch screen display.  Batch data and recipe administration can be stored, exported, printed or whatever you need (21 CFR part 11 optional).  Of course after your batch is done, ease of cleaning is imperative – something which the Alexanderwerk engineers have designed-in to the whole WP Pharma range.  All product contact parts can be removed within ten minutes – an optional WIP system is available.
In recent years the WP120 has been Orthos' best selling roller compactor, with units installed across the length and breadth of the UK and Ireland.  Why not reassure yourself with a trial in Alexanderwerk's test centre near Düsseldorf?  Rental machines are also available if you'd like to try before you buy.
For full product information, current prices or to arrange a trial, please call us on 01858 464246 or email andrew.reynolds@orthos.co.uk