Indicating a potential fire or explosion within 100 milliseconds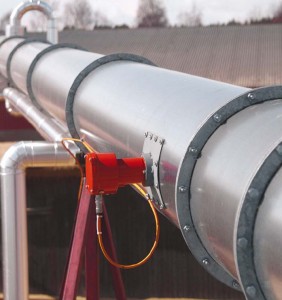 Orthos (Engineering) Ltd supply to the UK a multi-zone detector which will indicate a potential fire or explosion within 100 milliseconds. The system first launched in 1973 has been proven in over 3000 installations worldwide.
In the UK there are numerous incidents of fire leading to potential dust explosions each year from which at least one fatality and numerous injuries occur. In July 2003 the ATEX Directive came into force, whereby employers and other duty-holders had to meet the tough new obligations relating to the safety of mechanical and electrical equipment for use in workplaces where potential explosive elements, including dusts, gases and vapour are present.
Experience shows that most fires and dust explosions are initiated by sparks or glowing particles having relatively low energy levels. Most fire/explosion detectors react too slowly to offer any real damage limitation capability. Firefly will react to a spark or glowing particle making it possible to apply extinguishing medium, in proportion to risk, before fire or explosion actually breaks out.
The actual detector must be able to identify dangerous particles and accomplish this with multiple assurance against false alarms. Firefly's unique digital measuring principle actually enables it to distinguish between glowing particles and flames.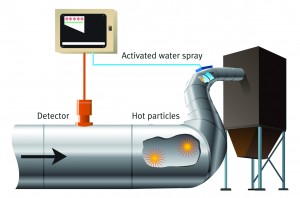 Up to eight detectors can be connected to a single control unit which initiates pre-programmed actions. If a particle or spark passes by the detector, the equipment gives alarm on condition the particle has been registered by at least three of the detector's control zones. To prevent false alarms, the equipment will only accept digital pulses created by the movement of the particle past the detector thus eliminating sensitivity to ambient light.
Typical applications where Firefly would offer high protection include biomass and wood pellets, paper making, tissue converting, grain storage, flour and cereal milling, food and beverage roasters, rotary driers, shredder, spray driers and dust filters. Tobacco and feed manufacture also benefit from Firefly.